Welcome to
The Piracy is Liberation 006: Violence release party @ Utkanten (Industrigatan 20, Malmö)
July 4 2009
Music: Harsh noise and industrial live performances and a DJ-set with a selection of violent music.
Art: Two exhibitions on the theme of violence will be shown.
LIVE:
CONCRETE THREAT will present a one-man performance this time, but promises an experience at least as harsh as last time.
KOEFF returns, this time in person and not just projected on the walls.
R.W.F. will do their first live performance in this constellation with their intense death-rave.
NIMAM SPREGLEDA will deliver hard old-school industrial.
More bands may be added…
EXHIBITIONS:
WORMGOD presents an expansion of the exhibition konSEKVENS that was shown in Växjö earlier this year. Wormgod is the combined forces of Susanne Johansson and Mattias Elftorp.
MATTIAS ELFTORP will also make a rerun of parts of the Violence exhibition with a sequence from the book of the same name. : VÅLD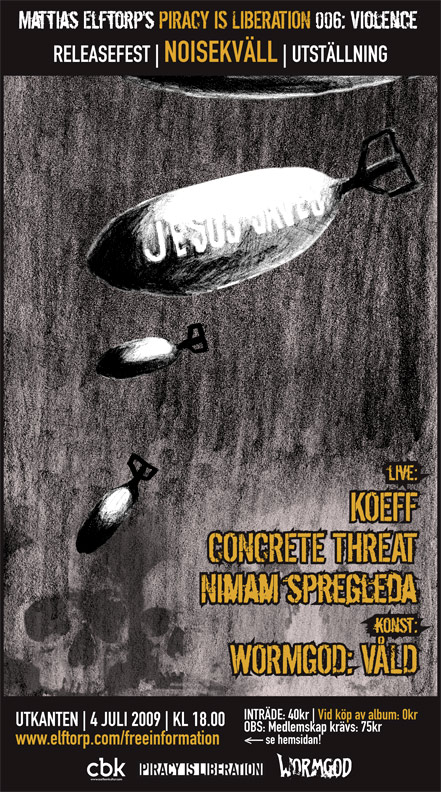 All back-issues of Piracy is Liberation will be available at good prices.
The entrance fee is 40 SEK, but you get in for free if you buy one or more copies of Piracy is Liberation. Please note that you need to be a member to get in. Send an email with name, first 6 digits and address to mattias@elftorp.com.
Membership costs 75 SEK/year.
This event is arranged by Wormgod with the support by C'est Bon Kultur.
If you're on Facebook, here's the event.
And here's a video from the Concrete Threat gig at the Piracy005 release party:
[youtube=http://www.youtube.com/watch?v=7MVmkB-cBnM]