I'm a comics creator, illustrator, designer, festival organizer etc etc. This blog is probably the best way to keep track of what I do.
I also talk about things that inspire or provoke me (media/culture/reality).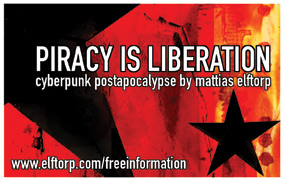 Piracy is Liberation is political theory, filtered through autobiography, masked as fiction in the form of cyberpunk postapocalypse.
This is me:
www.elftorp.com
www.elftorp.com/freeinformation
You can buy my books/prints/zines/anthologies at the Hybriden webshop.
www.wormgod.net
www.tusenserier.org
www.cbkcomics.com
www.hybriden.se
www.altcomfestival.se
www.fanzineverkstaden.se

You can reach me easiest by email: mattias [@] elftorp [.] com

I have accounts on various platforms, but do NOT contact me on Instagram, Twitter, LinkedIn or whatever it you want an answer within 5 years or so. I use those various platforms for showing stuff now and then, not for communicating… Facebook works if we're already friends, but I seldom check message requests from people I don't know…