Here's my usual attempt to figure out what I've been doing this past year. Let's start with my personal works. Is it less than usual? Feels like it should be, considering I've been working (almost) full time this year with Fanzineverkstaden. Somehow I seem to have still managed to do some stuff.
My processes differ a bit between working digitally and on paper. Here's how it goes:
On paper:
I have something that needs drawing. I take out my tools, I sit down at the drawing table and draw the thing. When it's good, I like the flow of it, the feel of steel nib on non-glossy paper, the random splotches of ink that can enhance or ruin (ruin, as in I have to do some postproduction in the compouter, which I always do anyway. However, there's usually big risk that I stumble on the starting line and never even take out my tools, even less sit down at the table.
Digital:
I reach for the pad and start drawing. I miss the feel of pen on paper and the ability to see the whole page since I often zoom in while drawing. But it's soo much easier to just get started, and so I'm more productive this way.
It's a dilemma.
That said, this year I've worked almost exclusively in digital form, with the exception of some linocut and silkscreen prints.
Some of these were made for the CBK: LORE exhibition, and were also used for my only proper book project this year, After the Ends of the World 2, which I did with Susanne Johansson, my partner in Wormgod: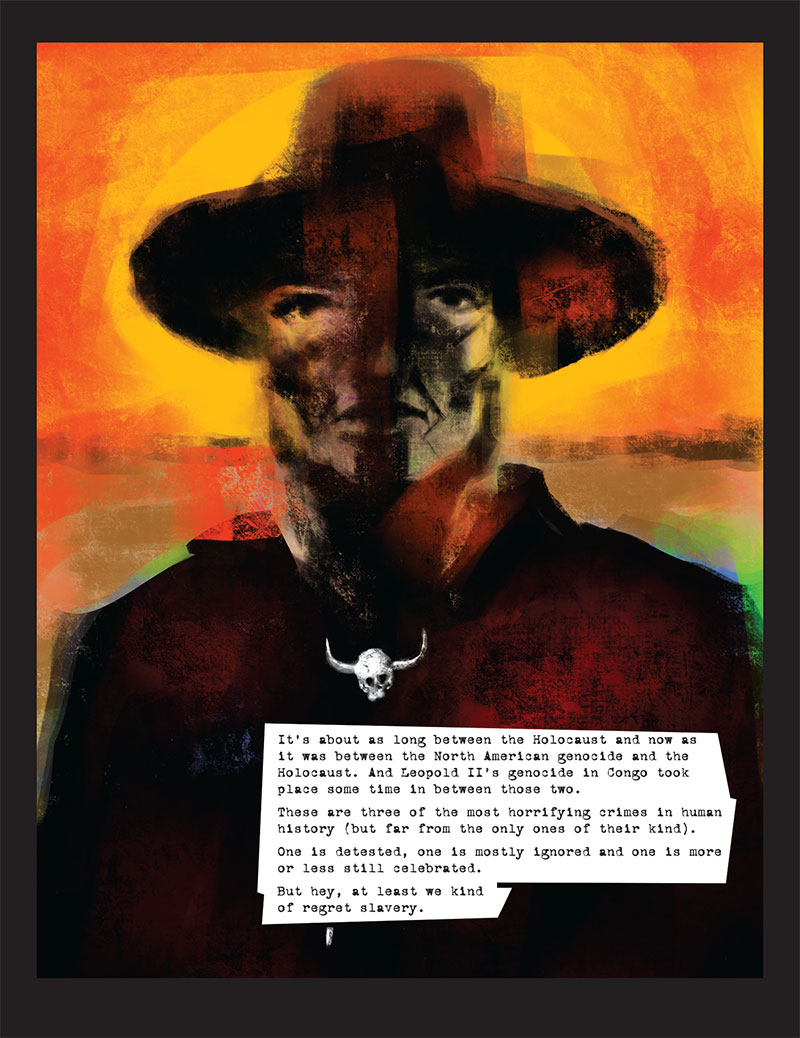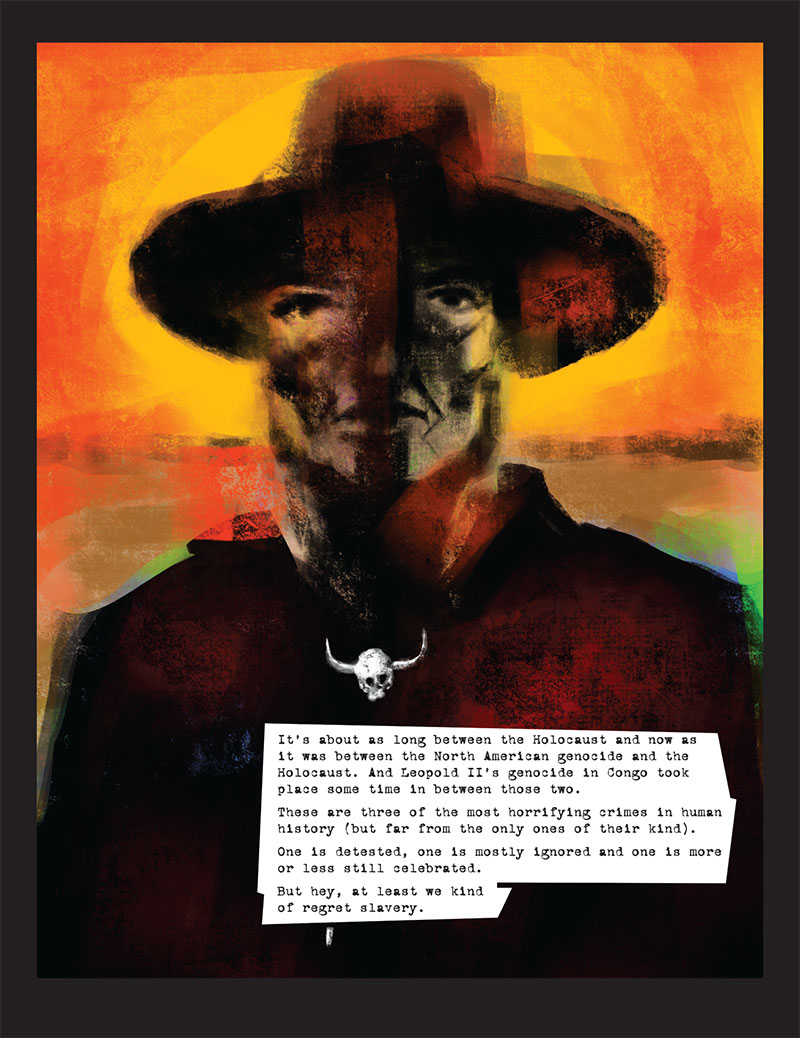 I know I've posted this one before, so if you've seen it you can just scroll past it. Posting it here again because it was included in Asylkalendern 2019, this year published by Asylgruppen Malmö:
Buy it to support them and the immensely important work they do.
I thought the theme of genocide and how we deal with some of them in our history would work well for the occasion.
Linocut and silkscreen, made at Fanzineverkstaden:
I've also made a couple of zines this year.
Hungr I made half asleep at the pre-party for Seriefest 2019:
Encounter in the Woods I've written about earlier. It feels good to finally have something from that project in print, and in exhibition form:
Sleep Paralysis, a cooperation with Kinga Dukaj, a remaster of the comic we made for CBA vol 47 (more on that in a later post). She had a dream that I put into writing and embellished a bit, using one of her photo manipulations to turn it into a visually abstract comic. I'm really happy with it, especially how it looks which I didn't even make myself. It's always nice to work with great art (which brings me back to the upcoming post about CBA vol 47, but more on that later as i said).

I'll end this post with one of the year's last projects, which was a cassette tape cover I made for a split by Noise Against Fascism and Legion of Swine. It'll be released January 9 in Copenhagen and in Malmö the day after. Only in 17 copies though, so it'll be very exclusive…