COMING SOON! A Subtle Fuck You, a selection of my short stories from the last 10 years, including some previously unpublished stuff. 124 pages of lost faces, rogue houses, romantic necrophilia and precarious living.
From the edge of Swedish comics. Published by Wormgod.
To PREORDER the book (80 sek, 8 eur, 8 usd), send an email to mattias@elftorp.com.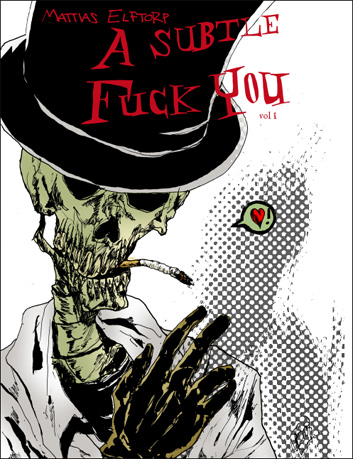 I put "vol 1" on it, so there may well be follow-ups in the future. I still have some more material that I feel would deserve another exposure. Including some stories in color.
Here's a list of the material in vol 1:
1. Lampan (The lamp) _____ Seriefrämjandets Fanzine #3/2003
2. Worms _____ C'est Bon #3 (2002)
3. Houses: a postapocalypse _____ Publikation(76)Houses: a postapocalypse (2002)
4. Spare change _____ Strip Search (web) (Dark Horse Comics) (2002)
5. Life is never now _____ C'est Bon #8, script by Ambra Bolin (2003)
6. 7 am _____ C'est Bon Anthology #2, Dekadent #1 (web) (2004)
7. The face/the box _____ C'est Bon Anthology #3 (2004)
8. Shuffle _____ C'est Bon Anthology vol. 3 (2007)
9. Fire _____ C'est Bon Anthology vol. 7 (2009)
10. Just lying _____ C'est Bon Anthology #1 (2004)
11. 7 am _____ Kolla! #2 (2004)
12. The Invisible Party _____ Kolla! #8 / Direkt Aktion 1 maj (2006)
13. Existensminimum (Subsistence level) _____ (previously unpublished) (2011)
14. The sun _____  (previously unpublished) (2005)
Preliminary release date: September 1, 2011