There are some who would claim that piracy is theft. Of course, the rest of us know this to be false.
Let me explain. One of the main characteristics of the phenomenon of theft if that the former owner is deprived of the stolen object. Copying the object is something entirely else. Anyhow…
Someone seems to have stolen one of the images from the Violence exhibition (this one):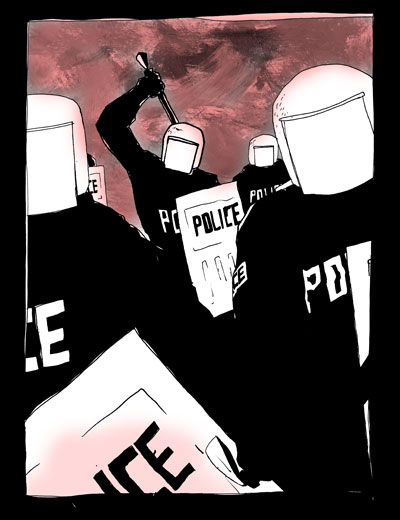 Obviously the most popular of the exhibition, and I am flattered that someone would go to the trouble of stealing it. Though I have some problems with it.
1. Everyone won't be able to see the entire exhibition.
2. I paid money for printing the images. If I don't get paid through selling the images, I won't get that money back and it was taken from the budget for the next Piracy is Liberation graphic novel…
3. I know I had a third reason, but I forgot…
Here's an idea: Instead of stealing the exhibition (assuming you can't afford to buy anything but still want a Piracy image on your wall), download one of the first two books and print a page to put on your wall. It's free and hurts no one!
Piracys is Liberation 001: Information Wants to be Free @ TPB
Piracys is Liberation 002: Infotrip @ TPB
New end date for Violence at Panora: October 15!