As usual, Asylgruppen i Malmö are publishing their calendar for the next year, and as usual, I made something for it. The theme this time was dreams. They sell these as a way to raise money for what they do, which is help undocumented/asylumseekers in different ways, so it's a good thing to support!
You can get it from Asylgruppen by sending your
– name
– address
– amount of which calendar
to: asylkalendern [@] gmail [.] com
I made a one-page Arg Kanin story for the week-based calendar. Here's a panel from it: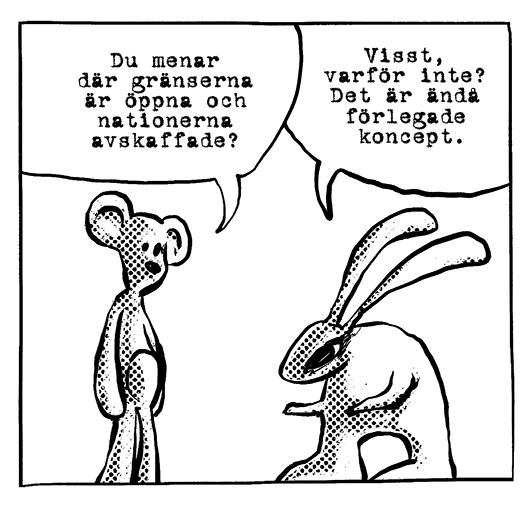 Translation:
-You mean where the borders are open and nations dismantled?
-Sure, why not? They're outdated concepts, anyway.
---
I also made this image for the month-based calendar. Less political content, but I still liked how it turned out (EDIT: this one didn't make it into the actual calendar, but I liked how it turned out, so showing it here anyway)):