Ny bok från Tusen Serier & Wormgod: 
JAG & MIN PAPPA & ZLATAN av Mattias Elftorp
[Scroll down for English translation]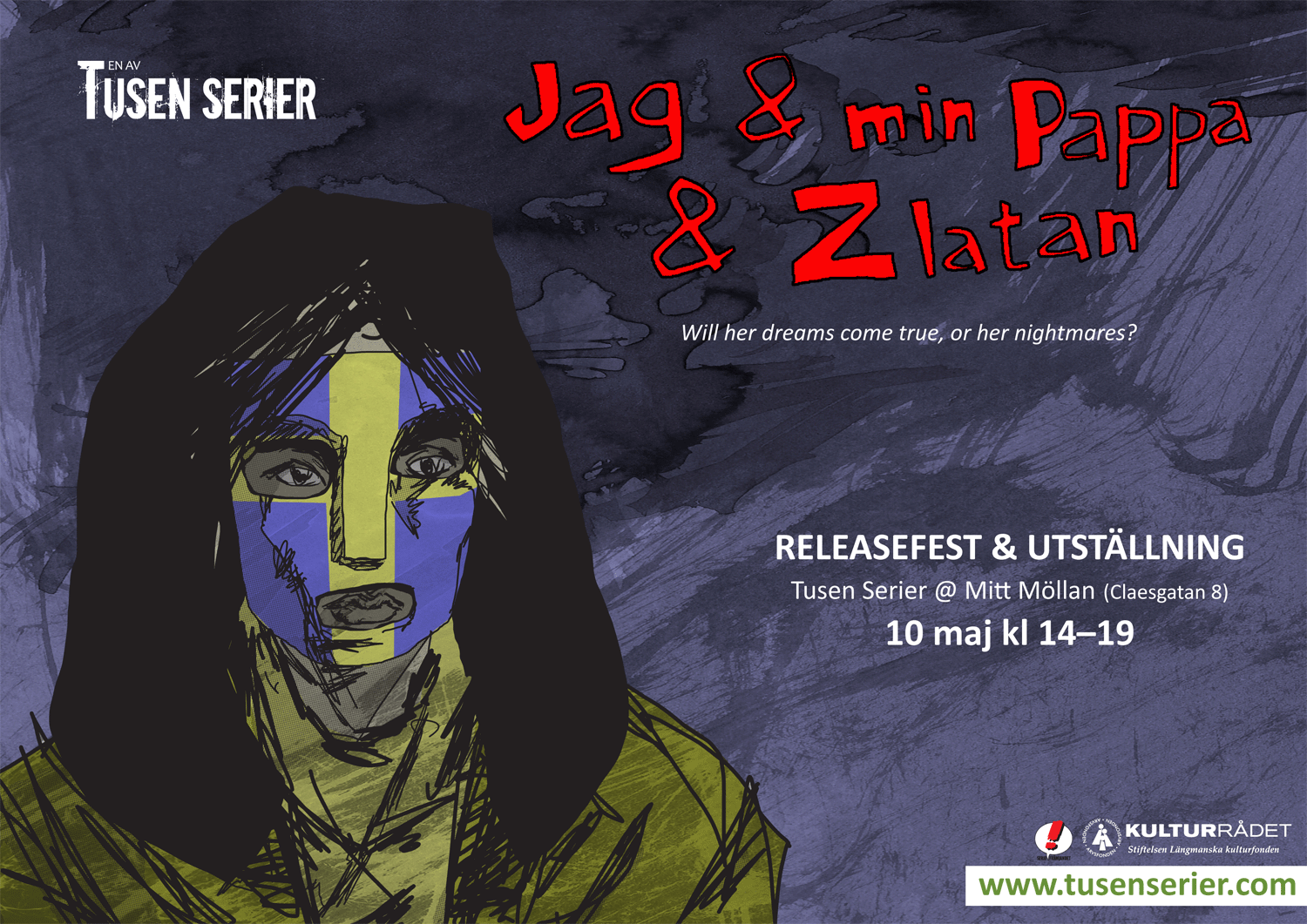 Releasefest och utställning:10 maj kl 14-19 på Tusen Serier (Mitt Möllan, Claesgatan 8, Malmö)
Vin, chips och serier på väggarna, vad mer kan du behöva en lördageftermiddag?
Ta med dina vänner och häng ett tag på Tusen Seriers lokal på Mitt Möllan!

OM BOKEN:
Sara brukar spela fotboll med sina kompisar. När hon och hennes pappa blir tvungna att lämna sitt land är hon överlycklig över att de ska flytta just till Rosengård i Malmö, staden där Zlatan bor. Hennes högsta önskan är att få se honom spela och kanske till och med träffa honom.
Men allt är inte helt bra. Kanske kommer de inte att få stanna. Och det är någonting konstigt med det här nya landet där man måste bära en svenskmask för att dölja att man är "annorlunda".
Ska hennes drömmar gå i uppfyllelse?
JAG & MIN PAPPA & ZLATAN bygger på den prisbelönta (ISV 2009, Kemi 2010) serienovellen med samma namn. De enkla teckningarna och symboliken bakom maskerna i serien gör att huvudpersonens öde blir lätt att leva sig in i och känna med då hon möter det svenska samhällets fram- och baksidor.
Boken finns i två versioner: en på svenska och en på engelska.
ENDAST 100:- på releasefesten (gäller även övriga böcker från Tusen Serier)!
Går också att beställa från
http://www.apartforlag.se/
http://www.serieaffaren.se/
http://www.wormgod.net/ (PayPal)
+div nätbokhandlar
OM MATTIAS ELFTORP (författare & tecknare):
Gör den postapokalyptiska cyberpunkserien PIRACY IS LIBERATION och den argt politiska ARG KANIN. Aktuell som medförfattare av BEKELE och känd från Bamsedebatten 2011. Aktiv i konst- och seriekollektivet Wormgod och håller i undergroundseriefestivalen AltCom i Malmö (årets festival blir i november med temat POSTAPOKALYPS). Fiende till Migrationsverket och andra avarter av det svenska samhället.
http://www.elftorp.com/
Mer om Tusen Serier: http://www.tusenserier.com/
—–
New book from Tusen Serier & Wormgod:
ME & MY DADDY & ZLATAN by Mattias Elftorp
Release party and exhibition: May 10 14-19 at Tusen Serier (Mitt Möllan, Claesgatan 8, Malmö)
Wine, chips and comics on the walls, what else could you need for a Saturday afternoon?
Bring your friends and hang out for a while at the Tusen Serier place at Mitt Möllan (Malmö)!

ABOUT THE BOOK:
Sara used to play soccer with her friends. When she and her dad had to leave their country she was happy that they were going to Malmö, Sweden, where Zlatan lives. Her greatest wish is to see him play and maybe even meet him.
But all isn't completely well. They may not be allowed to stay. And there is something strange about this new country where you have to wear a Swedish mask to hide that you are "different."
Will Sara's dreams come true? Or will her nightmares?
ME & MY DADDY & ZLATAN is based on the award-winning (ISV 2009, Kemi 2010) comics short story of the same name. The simple drawing style and the symbolism behind the masks in the story make it easy to empathize with the main character as she experiences different sides of Swedish society.
Bekele is available in two versions: one in Swedish and one in English.
ONLY 100:- sek at the release party (same goes for the other books from Tusen Serier)!
Order from
http://www.apartforlag.se/
http://www.serieaffaren.se/
http://www.wormgod.net/ (PayPal)
+various Swedish web-based bookstores
ABOUT MATTIAS ELFTORP (författare & tecknare):
Creator of the cyberpunk postapocalypse comic series PIRACY IS LIBERATION, the furiously political comic ARG KANIN/ANGRY ANIMALS and has been published in various anthologies. He is active in the art- and comics collective Wormgod, arranges the underground comics festival AltCom in Malmö (this year in November, theme: POSTAPOCALYPSE) and is one of the comics activists running Tusen Serier. Enemy of the Migration Board and other abuses performed by the Swedish society.
http://www.elftorp.com/
More about Tusen Serier: http://www.tusenserier.com/