New book from Wormgod, coming soon! Look for it at Stockholm International Comics Festival and MoCCA:
SEX & VIOLENCE
by Allan Haverholm & Mattias Elftorp
from Wormgod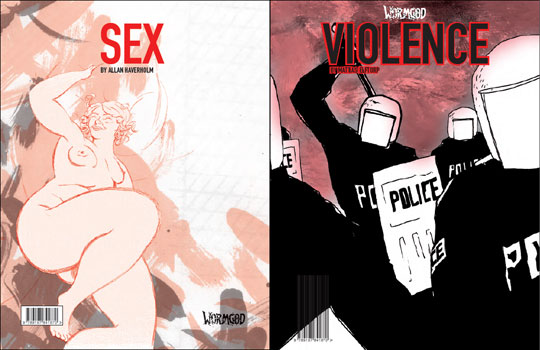 This book is about exactly what you'd expect from the title.
Read it from one side and it's about violence: a brutal journey into trauma-induced unconsciousness, directed by Mattias Elftorp, the writer/artist of Piracy is Liberation, Arg Kanin, etc.
Then flip the book and read it from the other side and you get sex: Allan Haverholm (Sortmund) offers a much more pleasant variation on the same scenario, building up to another kind of climax.
Two stories, two simple concepts, boiled down to experiences that ultimately are very human but extraordinary in their simplicity.
The stories have been published before. VIOLENCE in C'est Bon Anthology vol 3, Piracy is Liberation 005: Free Section and Excessive Force, SEX in C'est Bon Anthology vol 11.