I'm part of (and organizing) an exhibition this Saturday!
Tusen Serier presents:
(ANTI)RACISM
An exhibition with comics about racism.
Place: Fish Tank Gallery / Biograf Panora (Friisgatan 19D, Malmö).
Opening: Jan 21, from 18 until the start of the last movie for the evening.
The exhibition lasts until Feb 19.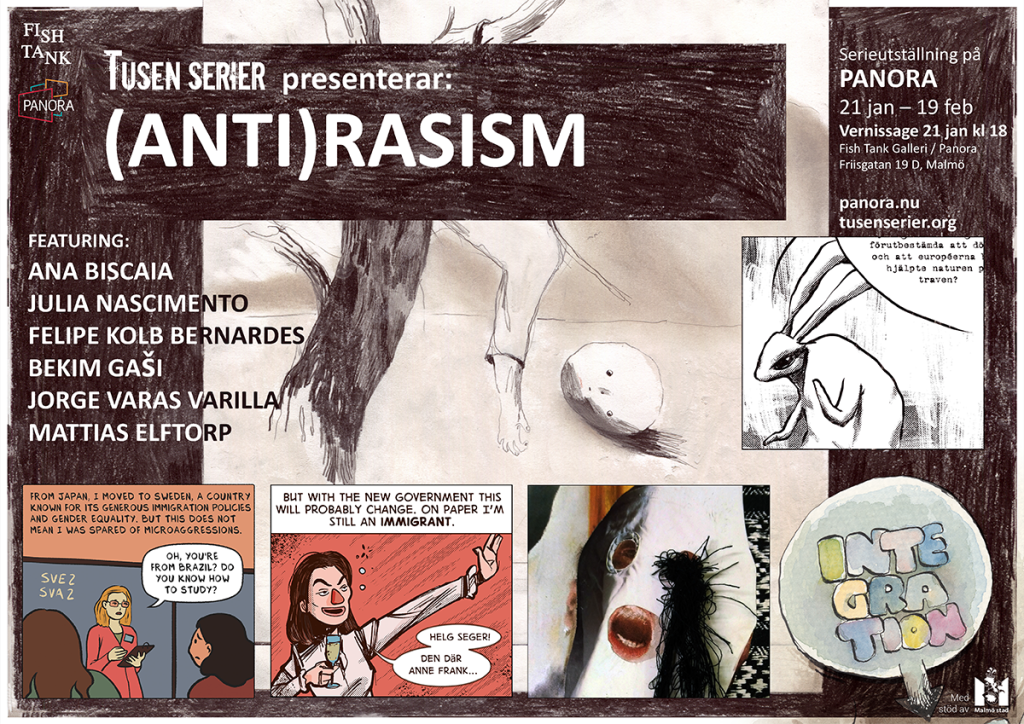 Long ago, European countries propagated the notion of white supremacy, of how other races would inevitably perish to make room for the Western European peoples. Today, race is mostly not talked about in that way, but the same notions live on and thrive in many circles, even if expressed in other ways. There is talk of culture, religion and criminality, but there is always an implied image of who has an obvious right to a space and who must always justify their existence, be grateful, obedient and assimilated. Racism is not just about how we look at each other on the streets or at work, but also about how our lives are concretely affected by legislation around migration, discrimination, behavior and culture.
In this exhibition, we showcase comics that look at the phenomenon of racism from different angles. Personal experiences are mixed with theoretical reasoning and visual interpretations.
Participating artists: Ana Biscaia | Julia Nascimento | Felipe Kolb Bernardes | Bekim Gaši & Mauritz Tistelö | Jorge Varas Varilla | Mattias Elftorp
During the opening, you'll be able to find our latest books, such as Vårdfällan (Raquel Lozano), Mapuche (Jorge Varas Varilla – new 4-language edition!) and Fem Papperslösa Kvinnors Historier (Amalia Alvarez – third edition!) from Tusen Serier, latest issues of CBA, from CBK, and my new Piracy is Liberation 012: Outer Enemy (not officially released until Feb 15)…
The exhibition is organized by Tusen Serier in cooperation with Fish Tank Gallery / Biograf Panora, with support from Malmö Kulturnämnd.
Here's a sneak peak at my contribution, another Angry Animal story (at some point I'll probably show the whole thing here, with translation):  
To be continued at the exhibition…