We want comics and texts for
CBA vol 40 – Worst Case Scenario
What's the worst that could happen? And if that happens, what's the worst that could happen? And if that happens, what's the worst that could happen? And so on…
There's a psychiatric method in cognitive behavioral therapy called "The Downward Arrow Technique" where you begin by writing down the answers to this repeated question and we thought it'd be the perfect theme for our upcoming CBA vol 40. Especially since this is an election year in Sweden. Especially since war and famine and climate change and personal disasters are on the horizon. So how bad can it get?
Deadline: APRIL 15
Main editor: Kinga Dukaj
(More details below…)
Think of a scenario where you imagine the absolute worst thing that could happen.
When you have that in mind, ask: if that happens, whats the worst that could happen?
When you have that answer continue asking it about 3 more times until you've got a clear story.
Use this as a script for your comic.
Editors note: The goal in the Downward Arrow Technique is to explore your core beliefs and work through them, and is often used for anxiety, phobias and other disruptive thought patterns. This method is very practical, simple and effective in helping the person get to the root of their negative thoughts and unhealthy beliefs about themselves. However, this is not the goal in CBA vol 40. We just want to know the worst.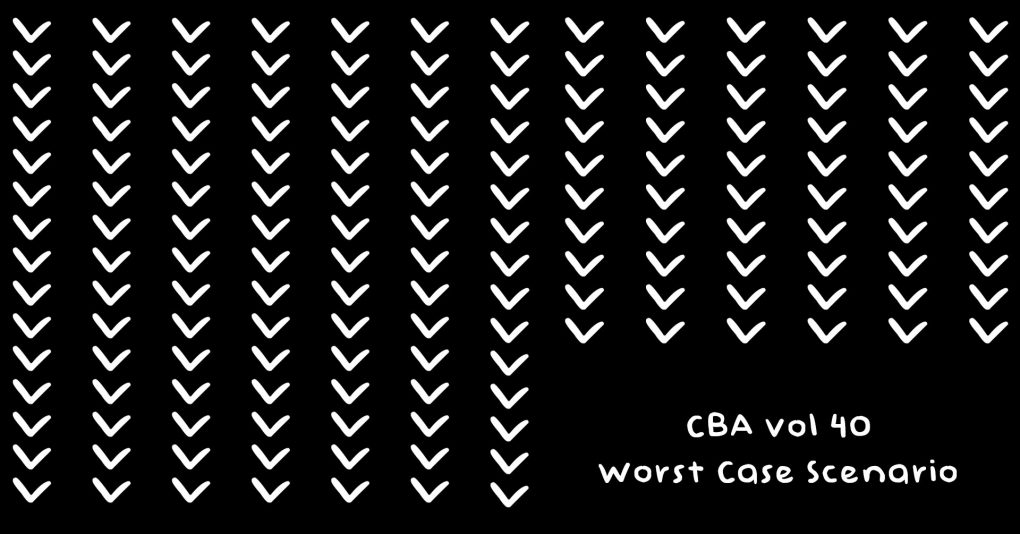 Please read and follow these guidelines:
Number of pages: We prefer comics that are about 5-30 pages, but any number is welcome.
Format: 20x26cm
Color scheme: Black and white
Language: English
Format: .TIF
Resolution: 1200 dpi line art or 300 dpi grayscale
Bleed: 5mm. Think you know how to handle bleed? Read THIS to make sure you know what we mean.
Within this space, there are no limits.
Please send us high-resolution files from the start.
Also include a short presentation text about yourself, with one URL (if you have a website).
Please ask us if you are unsure about formats, resolution, bleed, etc. We prefer stupid questions to bad files. And there are no stupid questions!
Unfortunately we cannot offer you any payment for participating. If we publish your submission you will receive 10 free copies of the issue. That's all we can offer at this date. Hopefully you will find being in CBA an enjoyable experience. Naturally, copyright for your material will stay in your hands.
—TEXT GUIDELINES—
We're looking for texts that touch upon the subject, preferably articles, essays and exploratory texts. We're not looking for short stories for this issue.
Feel free tp share the Facebook event to anyone who might be interested!
You can read a longer version of this post HERE.
Also coming soon: Call for submissions for the AltCom 2018 anthology: HOW TO SURVIVE A DICTATORSHIP