The other day i finished lettering the comic I don't want to dream by Spyros Verykios. We normally don't do that but he needed help and I liked the story so much that it was worth it.
It's a beautifully painted and quite disturbing comic of 43 pages that will be included in the upcoming CBA vol 36. A while ago we changed the structure for how we work with the editorial stuff in CBK. Instead of having big meetings that decide the contents of each issue (well, we still have those big meetings to discuss the comics), we have one person that is the main editor. This is because the new crew that took over CBK 2 years ago is a bit more diverse that earlier ones when it comes to taste. Which is a good thing in general, but it also meant that for each new volume, no one was completely happy with the contents. Having a rotating main editorship made a change in that; now everyone can at least be completely happy with one issue once in a while, and it's ok to not be 100% satisfied the rest of the time. To be clear: I'm not saying that I don't normally like the comics in CBA, but you always have your favorites. There's a Swedish proverb to explain this. Taste is like the ass: divided.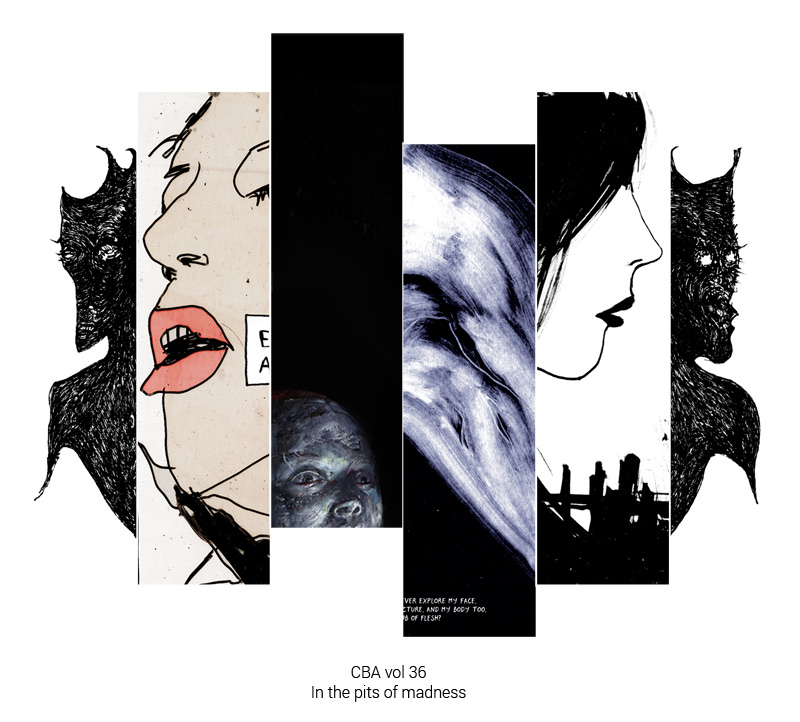 So CBA vol 36 is my volume. I got to use my absolute favorites of the material that has come in from the last calls for submissions (Spyros Verykios, Akab & Elena Guidolin), and also headhunted some other stuff (Serena Schinaia & the cover by Radovan Popović), and I'm really happy with it.
The problem is that CBK is currently out of money. Tusen Serier is letting us wait a bit with paying our part of the rent for Hybriden, but it's not a good situation since our funding from the Swedish Arts Council was cut off. So we decided to try crowdfunding via Indiegogo.
HERE'S THE CAMPAIGN PAGE. Please help us by donating some money and/or share the link and spread the word (if you prefer, it's also possible to donate directly to us via PayPal: info [at] cbkcomics [.] com). It would really mean a lot to us (and to me, since this volume is a personal matter) and you'll also get some perks as thank you. The really big spenders will get our entire back catalogue of what we still have in print, which is a massive pile.
Also check out this really cool promo video with art from the book, made by Víctor Expolio, with music by Feberdröm.
Let's plunge together into the pits of madness. Let's watch the dissolution of reality, let's dance with clear heads and see where it takes us. Let's travel the river hiding in the desert sands until the wind rises and we reach the final collapse. Let's look deep into the eye of the tiger. And see afterwards if we dare to dream.