The upcoming Tusen Serier exhibition Myling is one of three exhibitions taking place at the same time at Mitt Möllan (Claesgatan 8, Malmö) Nov 6 at 17-22:
—
Tusen Serier: MYLING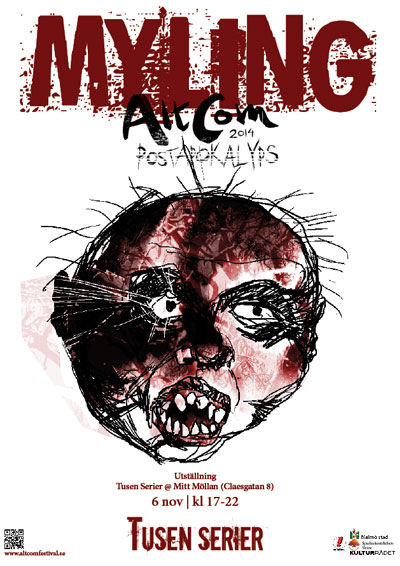 The Myling is a child who has been murdered by its mother and buried secretly in the woods or beneath the floor boards. Stuck between two dimensions, not alive, but alive enough to fuel their little bodies to keep growing in their graves in an unnatural way. A way that is not of our world.
Amanda Casanellas has taken this mythological creature and brought it into a new postapocalyptic context in a short story that has now been illustrated for this exhibition by different comics artists.
—
Yvan Alagbé & Amandine Boucher: MYSTERIES OF LOVE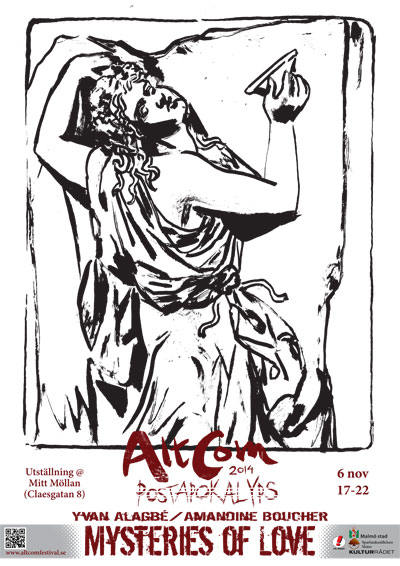 Love, love, love. In every novel, every movie, every song. For sure, we know of many love stories, were they real or imagined. What about a history of love? Where to begin? Love is the start. Love is the end. Love is the way. Love is the mystery of live.
By Yvan Alagbé with Amandine Boucher of FREMOK.

—

Chili Com Carnne: QCDA
WHAT DOES QCDA STAND FOR?
QUINTESSENTIAL COMICS FOR DOCTORS AND ACCOUNTANTS?
QUOTES FROM CATHOLIC DUCKS ON ACID?
QUICK COMICS FOR DOPEY ATHLETES?
QUEST FOR CRAZY DOCTOR AUTOPSY?
QUATRO CHAVALOS DO APOPCALIPSE?
WHO CARES!!! We are not looking for treasures or answers. Our efforts and wanderings may seem futile, purposeless, and even our flesh garments meaningless, but even without a battle or mission there is an incorporeal ambition in us. We know that nothing rises from rotten bodies.
QCDA is Giant/size/Comix/zine of Chili Com Carne that brings the Portuguese new breed of comic authors in the format of four dudes (Afonso Ferreira, André Pereira, Rudolfo and Zé Burnay) and four damsels (Amanda Baeza, Hetamoé, Sílvia Rodrigues and Sofia Neto). Their works are dazzled and confused in such a way that embody the contemporary "4 knights of aPOPcalipse": Anorexia, Smart Shops, Hooliganism and Cancer.

—
AltCom 2014 is organized by the Swedish Comics Association, with support from Malmö stad, Kulturrådet and Sparbanksstiftelsen Skåne, in cooperation with Folkets Park and C'est Bon Kultur. Projekct manager: Mattias Elftorp.
www.altcomfestival.se
www.serieframjandet.se