Ok, so this is a bit overdue, since these have been available for a while. But what do you want from me? Anyway…
Since December 0f 2009 I've been the editor of a series of books called Dystopia (Swedish edistions are called Dystopi). In this series, I'm gathering a wide selection of artists who have created stories centered on dark visions of the future (or in some cases the present). There's more information at the Wormgod site. The Dystopia books are published as a cooperation between Wormgod and Seriefrämjandet.
I'm enjoying this project a lot. I'm getting a lot of interesting stuff to publish, and there'll be more coming soon. I just wish I had some more time to be able to give it the attention it should get, but I'll have to settle for giving it the best I can. Starting with the so far unpublished fifth issue, I'm going to present each of the Dystopia books that have come so far. So here we go: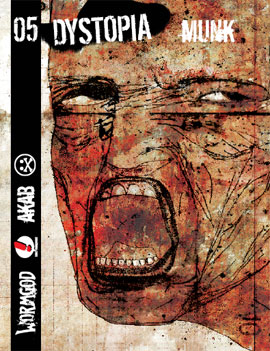 Dystopia05: Munk by AKAB.
The story of a man with Munk's disease, which makes him scream constantly and uncontrollably. He's finally found a doctor who claims to be able to help him, but it's hard to believe, having heard the some thing over and over before. Still, you have to keep hope alive…
Coming soon in English and Swedish.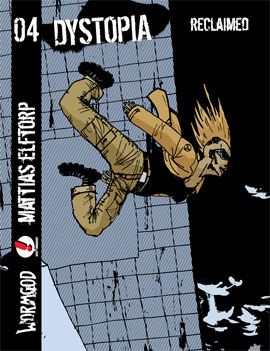 Dystopia04: Reclaimed by Mattias Elftorp
While on drugs, Information has learned how to fly. Still under the influence, she arrives at the Reclaim the Streets party… You might have seen this story before, in Piracy is Liberation 005: Free Section, but for this special occasion, it's been colored. First time ever that a Piracy is Liberation story gets the color treatment, and I'm quite happy with it.
Available in English, coming soon in Swedish.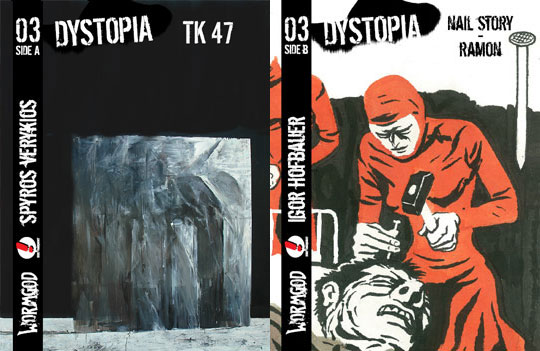 Dystopia03 Side A: TK 47 by Spyros Verykios Side B: Nail Story & Ramon by Igor Hofbauer
Spyros Verykios' story is set in one of the possible ways human civilisation could end. If Kafka was making a classic zombie short story with painted art, you'd think it might turn out like this.
The B side offers two stories set in a surreal future. One is a classic story about jealousy, monuments and nails in the head. The other one is even more surreal. And it contains monkeys.
Available in English, coming soon in Swedish.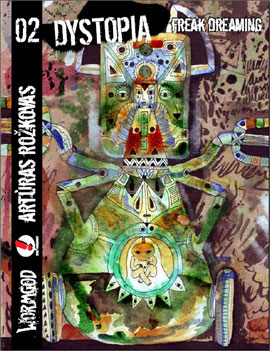 Dystopia02: Freak Dreaming by Artùras Rožkovas
A dreamlike story consisting of a selection of psychedelic drawings that combine to tell the story of a stillborn wolf child. Or perhaps a society whose population has been asleep for too long. Is it just a dream, or something more?
I got these more or less randomly selected pictures and put them together and they turned out to tell a story that I hadn't really expected when I started doing the selection.
Available in English, coming soon in Swedish.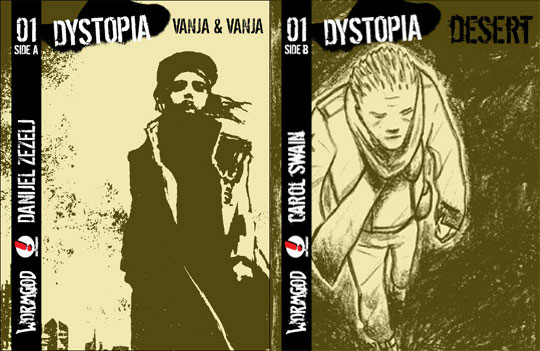 Dystopia01 Side A: Vanja & Vanja by Danijel Zezelj Side B: Desert by Carol Swain
Very good start for the series, setting just the mood I was looking for. Both stories have been published before in C'est Bon Anthology, a few years back, but I still wanted to use them for this, since I felt they would be perfect for a Dystopia split issue. This is also the first time any of the two artists have been translated into Swedish (which, so far, is true of all the contributors to Dystopia).
Vanja meets Vanja after practice to share a fruit. Vanja likes Vanja's medal, but he has to run because he isn't allowed to be off on his own for too long so they'll meet again the next day. This story was adapted into a short film: Racconto di guerra.
And Carol Swain tells the story of a group of soldiers making their way across a desert landscape.
Available in English and Swedish.