Autechre – Sublimit.
There's quite a lot of material for an alternative version of the dream sequence in the beginning of book 004: Copies and Originals. That scene was meant to be much longer from the beginning, but for different reasons it didn't turn out that way. One day I'll get around to scanning it to show the sketches at least…

And here's an old character sketch, from 2002(?):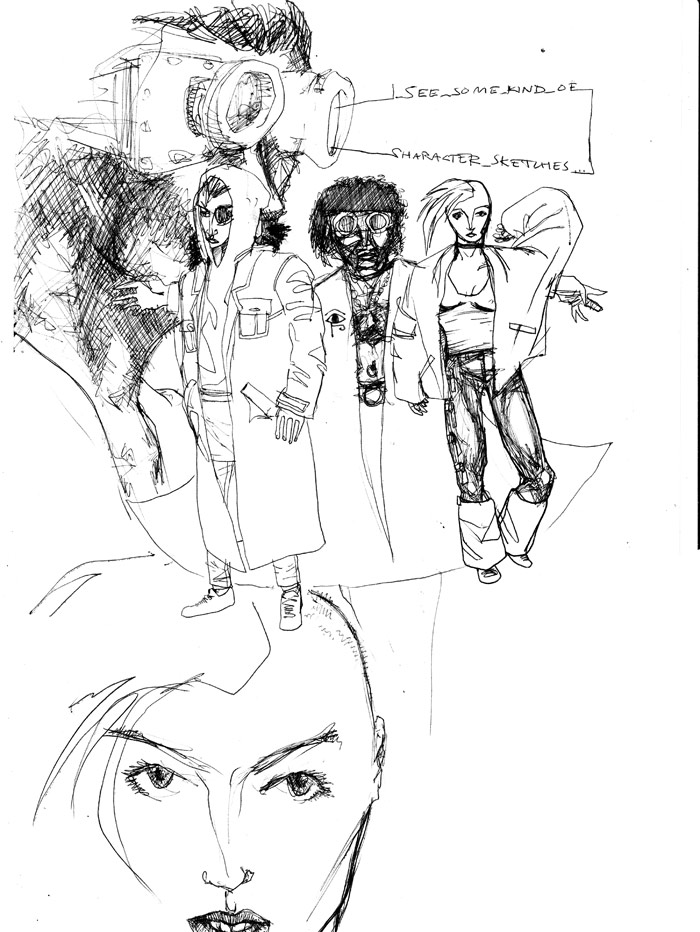 Phylr – Far and Away (Circuit Redux Remix).
By the way, I am as good as finished with the script for Violence now. Will start drawing next week, if not tomorrow…
There's an ever-growing pile of papers with notes for Piracy is Liberation that I have to go through during the writing process for every new script. An assortment of ideas that either have been used already, are meant to go in future books or are not going to be used at all. They're lying around on no particular order right now, so I have to go through all of it to see if there's something I had planned that I want to use for Piracy is Liberation 006: Violence.
Some of the unused stuff is interesting. These things may make it into stories that have nothing to do with the Piracy universe. Some of them will show up on the Infotrip site as the equivalent of Deleted Scenes. I just put some stuff up there (on the pages for book 001 and 004). Filed under Story.